What is Chinese herbal medicine?
Chinese herbal medicine uses herbs to treat and eliminate symptoms and improve health in the long term. Based on traditional Chinese medicine principles, herbs are individual plants or natural substances that synergize to enhance and treat illness. Herbs such as Astragalus Root, Camellia sinensis, Carthamus tinctorius, Bupleurum, etc., are often used in Chinese medicine. At ACA, doctors will create a custom herb formula for patients to treat corresponding conditions.
Why should we take Chinese herbs compared to western medicine?
From the theory of Traditional Chinese Medicine, herbs help balance Yin and Yang (Yin and Yang theory is the underlying basis of Traditional Chinese Medicine) and achieve energy balance, adjusting the opposing forces of energy that run through invisible channels in the body. Unlike western medicine, which focuses more on symptoms, herbs concentrate more on the body system and root of diseases with fewer side benefits and help people maintain health for a longer time.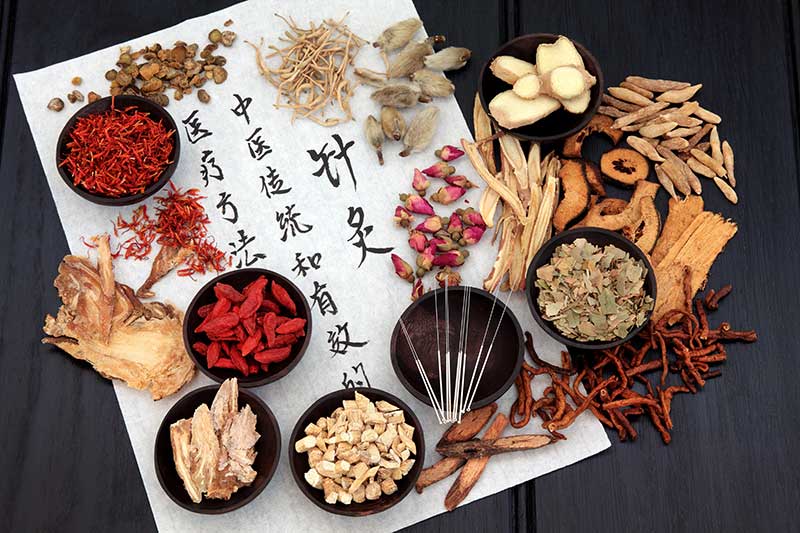 How does Chinese herbal medicine work at ACA?
At ACA, we use Chinese herbs to treat the underlying causes of illness more than individual symptoms. We apply a comprehensive approach by using herbs to treat physical, emotional, and spiritual problems. Once a doctor knows a patient's specific needs and diagnoses the patient, the doctor will create a custom formula for the patient. Individualization is our feature. We care for our patients, track the patient's situations, and provide holistic aftercare plans to give our patients the best treatment experience.
What are Chinese herbs good for?
Allergies

Anxiety, Depression

Arthritis

Asthma

Constipation, Digestive Issues

Pain Management, Headaches, Migraines

Insomnia

Joint Pain

Muscle Spasms

Pre & Post Surgery

Sciatica
Poor Blood Circulation

Women's Health, Fertility and Pregnancy, Menopause

Men's Health, Prostatitis (Prostate Inflammation)

Weight Loss

Nerve Regeneration

Hair Growth

Hormone Balance

Kidneys and Fatty Liver

Skin Conditions

Diabetes

Hypertension
Chinese herb Question and Answers
Q: Are Chinese herbs safe?
A: Several studies proved the safety of Chinese herbal medicine. But you need to get an evaluation from our doctors and get a prescription for herb medicine. Our doctor also will guide you on how to take the Chinese herb.
Q: Are Chinese herbal medicine efficient?
A: Chinese herbal medicine has been used for thousands of years in China and is still used today. It has been proven effective in modern clinical testing to treat different conditions.
Q: Who should take Chinese herbs?
A: Anyone can take Chinese herbs under the guidance of doctors. Those people find Chinese herbs beneficial:
Want to prevent and treat illness

Want to cure illness in a natural way  

Have tried Western treatment but didn't get improved or good results

Have symptoms but cannot find a clear cause

Want to reduce the side effects of drugs
Q: Where can I buy traditional Chinese herbs?
A: You can buy traditional Chinese herbs at ACA clinics directly. We source authentic herbs from China.
Q: How to take Chinese herbs?
A: Different herb formula has different intake method. Patients need to follow the doctor's suggestions to get the best effect from the herbal medicine.
Request An Appointment:
Schedule an appointment at one of our New York locations. ACA Franchise Opportunities
The over $4 billion US acupuncture market offers a great opportunity with over 10% annual growth rates and a continuing flow of new patients interested in the benefits of acupuncture.