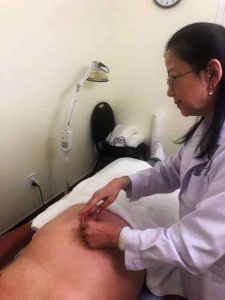 ACA Bayside is conveniently located at the intersection of Northern Blvd and Francis Lewis Blvd in Queens. This location serves patients in the greater Queens area including Flushing, Bayside, Little Neck, Bay Terrace, Whitestone, and more. The managing acupuncturist at this location is Dr. Huang.
Dr. Huang graduated from Xinjiang Medical University in China. She earned her New York State Acupuncture license in 2002. She has worked in the New York Blood Center since 1992 as a clinical laboratory technologist and has been practicing acupuncture in a clinical setting for 17 years.
Dr. Huang specializes in pain management, internal medicine, women's health, and allergies. She strongly believes in the power of acupuncture and other Traditional Chinese Medicine (TCM) treatments. Her hope is that more people give acupuncture a try so that they can experience its effectiveness and become less reliant on medication to manage their symptoms. Dr. Huang wants her patients to commit to their own health and feel confident that the healing systems of TCM can be trusted to bring their bodies back into balance.
Like all of the acupuncturists we have spoken to, Dr. Huang loves what she does. She is passionate about holistic medicine and spoke intensively during our interview about her indepth questioning of not only her patients' symptoms and health but also of their lifestyles. She makes it a priority to educate her patients on how to maintain their body balance and vitality every step of the way. She teaches her patients about the right foods to eat, and at what times, sleep cycles and how to read the signals your body sends you about your health. She says, "You are the best doctor for your own body," and she tries to empower her patients to believe that for themselves. Dr. Huang has seen the difference in the effectiveness of acupuncture treatments when the patient believes that they will have positive results.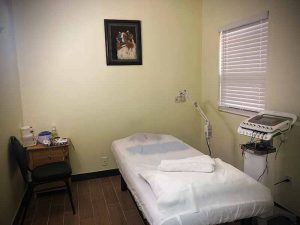 Dr. Huang reports that she most often treats patients for pain-related conditions and is often so pleased and inspired by how fast she is able to provide them with relief.
Recently, Dr. Huang has had quite a few patients who have come to see her for their migraine headaches. One of her patients described his pain by saying, "I just want to hit my head against the wall, it hurts so bad and I can hardly see when I wake up in the morning."
This particular patient had been having migraine headaches for years and the painkillers he was taking, eventually stopped working. As he was describing his symptoms to Dr. Huang, his head was in his hands, he felt so defeated. With a combination of acupuncture and Chinese massage, this patient's symptoms began to turn around. Within a few months of consistent treatments, he described his pain as mild and no longer felt dependent on medication to ease his pain.
Services offered at Dr. Huang's location include: acupuncture, Chinese herbs, herbal facial, Chinese massage (tuina), cosmetic acupuncture, cupping, reflexology, and moxibustion.